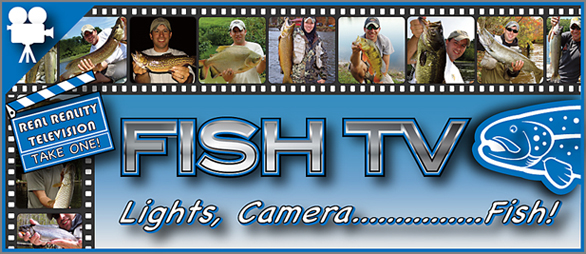 Check out our videos! More to come in the future, so check back often. Send us your video/html code and be part of this Fish TV video Page.
Video's Below
A collage of highlights that include video and still shots from one day of fly fishing for Brook Trout in the white mountains of New Hampshire, with my friend Mike and his sons on June 16, 2012.
With the new Quabbin Reservoir fishing season opening up this Saturday on April 14, 2012, in the spirit and excitement of the new season approaching I have uploaded this video, containing some of the highlights caught on film during last years 2011 (spring) season. Quabbin Reservoir anglers are usually pretty much divided into two categories of fishermen, the trout/salmon guys & the smallmouth/largemouth bass guys. Personally I love them all, so in this video are clips of both lake trout and smallmouth bass This video shows some lunker smallmouth, a couple of buddies on my boat catching their very first smallies and interesting enough a lake trout trying to bite my neck. I still have a bunch of content from last year to edit and put together and figured I better catch up a bit and in doing so have started with this very video. As usual I'll be bringing my camera on this seasons fishing excursions and looking into new editing software and new ideas for improvements to new upcoming 2012 season videos to be shot. TIGHT LINES!
(Click on the video above to watch it)
This video shows some highlights of my spring 2011 fishing excursions on the Quabbin Reservoir, targeting the elusive & hard fighting Landlocked Salmon. My third season at the Quabbin Reservoir once again did not disappoint and provided plenty of big fish between 4-6+ lbs. While not every trip yielded great success, I put my time in and when the bite was on, it was on. In my opinion the reservoir continues to put other more well known & out of state landlocked salmon waters to shame. The collage of clips shows footage of my friends Peter & Mark who I guided onto their very first ever landlocked salmon and in the process also helping my friend Peter acquire his first ever Massachusetts sport fishing award pin. The video also shows some of my own captures and pin fish. Some of the clips even show my first real attempt while fishing alone at capturing footage of some salmon action, which included some fight scenes and salmon leaps, considering I was filming solo while at the same time trying to keep control of the boat and land fish, I was pretty pleased with the results. Fishing & filming by yourself is a little bit more difficult but does add another element of challenge to it but it can be done. As always I was impressed at how hard these dwarfed size Atlantic salmon fight and look forward to chasing some again next year. Tight Lines All!
(Click on the video above to watch it) After a long absence from saltwater fishing and mainly focusing on freshwater, I was really starting to miss the ocean. It was time to switch it up a bit and get back into some salt action again. Over the summer I gladly accepted some invitations from friends and joined them on a handful of trips targeting striped bass and codfish. This video shows some of the highlights from those trips. Each trip was a blast and I now have the salt bug in me again. With a renewed interest I now look forward to other future excursions out on the sea. Special thanks to my friends for letting me join them on these trips and the laughs that came with them, I hope you guys enjoy the video and I look forward to fishing with you all again next year. Tight Lines All!
(Click on the video above to watch it)
During the hot month of August I visited a spring fed pond (a little spot I like to keep to myself) to target trout from shore. This video shows highlights of two successful days of fishing the pond. The target fish I was after were two rare golden palomino trout that were stocked back in May as novelty fish, along with a generous number of rainbow trout by a private hatchery for an annual spring trout-fishing event at a public pond. The two golden's surprisingly somehow had managed to avoid being caught by other fishermen and birds of prey. Being bright yellow they stand out and are generally more vulnerable to predation and anglers. The state of Massachusetts does not stock golden palomino trout, hence the rarity of these fish in MA public waters. Though it sounds a bit crazy targeting only two fish in a entire pond and for a type of fish that in known to be difficult to catch for refusing offering after offering but (though it did not come easy) I did manage to land them both and along the way of my golden trout hunts I was pleasantly surprised with another trout rarity, a beautifully colored up tiger trout. As well as a bunch of (very aerial) rainbow trout, that after being hooked put on a great show. To learn more about these catches log onto www.thelocalhookupma.com and click the fishing reports icon on the left.
Carp Fishing the Assabet River in Massachusetts. A collage of video clips taken from 4 short trips of friends and I targeting mirror carp and common carp. While carp rods set up on tripods with bite alarms and baited with boilies and such is cool and all, none of us in the video own any specialized carp gear. We simply used our bass and trout rods baited with kernels of corn. Keeping it simple still produced us some decent fish. It does not have to be complicated, so get out there and give it a shot.
Spring 2011 collage of video and pictures of fishing for put and take hatchery stocked Rainbow Trout and Broodstock Atlantic Salmon in Massachusetts.
Video and still shots of contributor Mike & sons brook trout fishing in New Hampshire during the spring of 2010 & 2011.
Last summer I made a trip to Pennsylvania and while there did some fishing for Channel Catfish. Along with me were my friends Mike and his son. Check out some of the highlights and see how we made out.
This video captures some highlights of the 2011 ice-fishing season. With such heavy snowfall not seen in many years it was pretty horrific going out and dredging through all the thick snow. Not to mention a slower season it seemed in terms of action but me and some friends were still able to get out and brave the elements. Highlights included: The Great Meredith Rotary Derby in NH and some Chain Pickerel, Rainbow Trout, Largemouth Bass, Broodstock Atlantic Salmon and Yellow Perch action in MA. Trying to finish off editing and uploading the rest of last years fishing clips (a little behind) before uploading any of the most current fishing clips filmed recently during early spring 2011 open water season. Please subscribe and look for more videos to come.
This video shows some highlights of an afternoon spent with my wife fishing for rainbow trout. It was a very welcomed hot day in May, with blue bird skies and a hot trout bite. We lost count of how many trout we both caught and I had a blast watching my wife enjoy herself so much, reeling in one right after another (good times). Can't wait for the snow and ice to melt and the 2011 open water season to get under way. Tight Lines!
This is an old video I made over 2 years ago that I never uploaded showing some of my past pet Peacock Bass (Type: Butterfly/Cichla Ocellaris) feeding and attacking prey. Though I wasn't going to add it since this is primarily a fishing website I decided to do so anyway incase anyone might be interested in viewing it.
Some clips from 4 fishing trips I made over the summer for Fallfish. I wanted to explore some local creeks and rivers in hopes of finding Fallfish. The point of this was not only for some tugs on the line by a some what new species for me but also to try and find sources of some jumbo size bait, beyond what any of the local bait shops could provide. Fallfish make great (and legal) bait for hunting large predatory fish. I started first by fishing a river a short walk from behind my home (one that I overlooked for too long) and realized I didn't have to go far to find a great fallfish fishery. Later on other spots where found as well. Even if you have no interest in them as bait they are still worth targeting. Especially on an ultra-light rod, the action is consistent and though these fish are not generally large pound for pound their scrappy fighters. Looking for something different give them a shot. Click play button above to view.
Fishing for Brown Trout in Massachusetts. Some highlights captured of a few trips, during the 2010 open water season. The brown trout in this video are hatchery fish, stocked by the Massachusetts Division of Fisheries and Wildlife (MassWildlife). Click play button above to view.
A collage of multi-species fishing and wildlife clips shot over the Summer of 2010. Click play button above to view.
This video is a bit of a spoof on shows like river monsters and my own self but all the fishing was actually real and nothing was staged nor was it shot in someone's backyard ornamental pond. Over the summer a couple of friends of mine told me about a drainage pond out by a local wooded area that contained only Golden Shiners, Rosy Red (Fathead) Minnows and Goldfish. Rumor has it the pond was stocked by someone 6 years ago and the fish took to it and since have bred and now thrive. I was curious about how big the goldfish and shiners grew. So one weekend I decided to check it out with some friends. It was some not so serious fishing and a little goofy but still fun. This is also a YouTube experiment to see what kind of ratings such a silly video will get. But with all kidding aside the goal was to catch some feeder fish for my aquarium pets at home and to bring back a couple of large goldfish to add to my fish tank (which we accomplished). Besides how many people can say they caught their own pet goldfish. Truly one of my most wackiest fishing excursions ever. Click and watch this video to see how it went.
My wife and I took a road trip to Maine hoping for 3 days of some lakeside end of summer fun in the sun. However cooler temperatures rolled in along with some heavy wind and rain. Which prevented us from pursuing other water activities, like swimming and the beach. It was even cold enough that we had to load the fireplace with wood to keep the cabin warm at night. Not what we had in mind but that's mother nature but we made the best of it and still managed to have a great time. We ate well, relaxed and of course fished. We stayed at Bald Mountain Camps Resort on Lake Mooselookmeguntic, which sports native and self-sustaining populations of wild brook trout as well as landlocked salmon. In addition we also caught some yellow perch and fallfish. The lake also has a public boat launch and a near by sporting goods shop. There are also fishing guides in the area however we chose to self-guide ourselves. The scenery is very beautiful. The fishing was a little rough at first but we were able to figure them out before ending our trip. This home movie/fishing video shows some of the highlights we were able to capture on our camera.
This video contains some Largemouth bass highlights of my 2010 season. Pursuing a variety of other species I didn't get around to doing very many largemouth bass trips but I still managed to get into some decent bass. My favorite highlight was taking my little nephew out on his first fishing trip and putting him on his fist largemouth bass.
Catching my first Koi fish. Also some more common carp Bill and I caught.
This video is a short documentary of Bill and me attempting to try and catch our first trophy size carp. The mission for both of us was to try to attain our first MA Sport Fishing Award Pin for this species. The minimum weight needed to do so is 15 pounds. We were not all that experienced with carp fishing. Here's how it went.
In this video are some of the Landlocked Salmon that friends and me targeted and caught back in the spring (May 2010), at the very beautiful Quabbin Reservoir. Where the loon's call and the eagles soar. Like last year most of the salmon caught were of quality size and this year proved to be no different. Highlights in the video include four Massachusetts state award pin fish, a friend who I helped catch his first landlocked salmon, two freak salmon, which include a male with crooked kype, that extends to far right and a hen with a compressed looking head (probably not wild born fish and the product of a hatchery smolt stocking). And my best landlocked salmon of the spring season, a 6-pound whopper.
This video contains some of the Smallmouth Bass caught this past 2010 spring at the Quabbin Reservoir in Massachusetts. All fish in this video were released to fight another day. Last spring was good but this year was even better. Allot of big bronze backs were caught this year ranging between 4 lbs - 4 lbs 7 ozs and of course some smaller ones too. The smallie's in this video were pre-spawn fish, caught on shiners, jerk baits and jigs. Most of the large and fat bronze backs were big females loaded with eggs and smelt. Also I managed to get some under water footage of some of the releases as well. I could not get over how hard these football shaped smallmouth fight and look forward to perusing them again.
Over the spring I took a little time to target Massachusetts most hard fighting trout, the Tiger Trout. Pound for pound their aggression, vigor and fighting ability surpasses all other trout. The video contains a compilation of clips of some of the Tigers I pulled out thus far this season. The Tiger Trout is a sterile hybrid trout produced by fertilizing female brown trout eggs with male brook trout sperm. Because their a hybrid many trout snobs dub them as Franken fish or some man made lab fish that should be discontinued. However to argue this point these fish can occasionally occur in the wild, in areas with breeding populations of brown and brook trout that both share the same waters. These occurrences are extremely rare but do happen. Most tiger trout (as the ones in this video) are hatchery bred and stocked by the division of fisheries and wildlife and are a product of the Sandwich State Fish Hatchery and stocked annually.
This year I wanted to target a new species within my home state of Massachusetts and that species is the Lake Trout. Though I have caught them in other states I wanted to catch some on home water. To me there is just something more gratifying about being successful within you own backyard and doing it all yourself, versus traveling and hiring a guide or charter service. The Quabbin Reservoir is only one of two lakes within the state that have a lake trout fishery and the only one that allows anglers to fish out of boats. The only other recognized lake trout fishery within the state is Wachusett Reservoir, which only allows shore fishing. Last year I targeted landlocked salmon and smallmouth bass at the Quabbin and since I was already a little familiar with that lake and prefer fishing out of a boat naturally I chose it for my lake trout hunt. Last year I never even caught an incidental Laker. So this year it became a goal. This video shows some of the Lakers I caught earlier in the spring, including my first MA Laker. It also shows a couple of friends who I helped put on their first MA Lake Trout as well. The lake trout are wild and are bigger than your average hatchery reared trout and are another great game fish option.
A small collage of clips of some of the solo catches I made in March. Which include a 9 lb 3 oz Broodstock Atlantic salmon, Brown Trout and Rainbow Trout. All fish caught on lures (no live, dead or dough bait). Also some interesting footage of a beaver I captured, you just never know what you will come across while spending time outdoors. This is just my start to the new open water season. This season Im hopeful and confident that it will be a fruitful one. I also hope to pursue many other species and also look to improve the quality of videos made here. So please SUBSCRIBE, stay tuned and track my progress. Also if you happen to share the same passion and have your own fishing channel or website let me know about it and Ill check it out. THANKS!
MA, January 09, 2010: Ice Fishing for Brood-stock Atlantic Salmon
NY, November 2009: Fishing for Tributary Trophy Trout & Salmon
Home, 2009: Look but Don't Hook, My Pet Peacock Bass
CT, 2009: Change of Pace Hunt For Fall Red Kokanee (landlocked Sockeye) Salmon
MA, 2009: Hunting Largemouth Bass
MA, May 2009: Quabbin Reservoir Fishing for Landlocked Salmon
MA, May 2009: Quabbin Reservoir Fishing for Landlocked Salmon
MA, Ice-Out Broodstock Atlantic Salmon Fishing
April 9th, 2009: Sudbury River Trout Stocking
Brazil, Fishing for Exotics (Part 1)
Brazil, Fishing & Vacationing (Part 2)
NY, Trophy Trout Trip Video
NY, King Salmon (& Bonus Trout) Trip Video
MA, End of Summer Hold-Over Brown & Rainbow Trout Video
MA, Hand-lined Brown Trout Video
MA, Sandwich Trout Hatchery Tour Video
MA, Bullhead Catfish on Fly Rod Video
MA, Steelbow (Rainbow/Steelhead) Cross Trout Video
MA (Cape Cod), Rainbow Trout Video
MA, Bitzer Trout Hatchery Video
CT, Northern Pike Video
NY, Tiger Muskie Video
NH, Brook Trout Video
MA, Tiger Trout Video
CT, Largemouth Bass Video