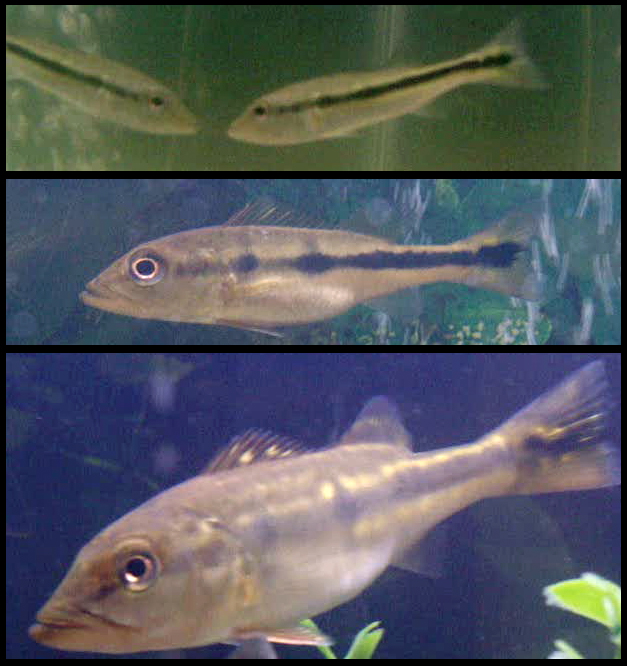 GROWING STAGES
To view click on videos below.
Not only have I fished for Peacock Bass but have had them as pets as well.


Above are some shots of a couple of peacock bass (cichla temensis) that I have raised in captivity as pets, in a 120-gallon tank. These are the largest strain of peacock bass found in South America. To give you an idea of how large they can grow in such a short time. When I first purchased the pair (pictured above) they were only about 3 inches long. On a diet of mostly cichlid pellets and occasional live golden shiners or goldfish, the most aggressive feeder out of the two in 1 year and 7 1/2 months grew 21 inches long and weighed 4 pounds 8 ounces. I know this unfortunately because one night my canister filter malfunctioned and failed to work. This canister filter also doubled as the primary aerator. After waking up the next morning I went over to feed them and discovered a fish kill. Unfortunately even with two air stones still functioning in the aquarium these two fish did not survive. Before disposing of them I weighed and measured the larger one. Since both fish were certainly to big to simply flush down the toilet, disposing of them was no picnic. Right around before this happened I was starting to look into purchasing a larger tank to house these fast growing fish and wondered just how big I could grow out these two fish. I guess I'll never know or have a need to shop for a larger tank. I also in the past had a pair of prized orinoencis peacock bass, a smaller and colorful strain that also died during a night over a heater malfunction. When the heater ceased working (during winter), over the course of the night the water temperature dropped down to a level that the fish could no longer survive in (warm water a must). The lesson in all of this is if you have any fish or plan on getting into the hobby of fish keeping, word to the wise: set up two filters and two heaters, so you always have backups. If your going to purchase any fish that grow large like peacock bass before doing so be prepared for the expense that will come with such ownership, such as a large enough tank and equipment to support them (they will quickly out grow your 15-55 gallon tank). Also expect to spend about a minimum of 2-3 hours a week on just cleaning maintenance and water changes. Predatory fish are messy eaters and will dirty up your tank in a short period of time. I don't recommend anyone keep these types of fish as pets unless there willing to dedicate themselves to all the insanity that comes with keeping large predatory fish as pets. If your not willing to go through all the trouble then stick to your goldfish and if you are willing then like I said double up.
Below some Peacock Bass fishing trips from Florida and Brazil.
Some Absolute Beautiful Southern Florida Butterfly Peacock Bass.


Last year I headed down to south FL with one thing on the brain, peacock bass. My friend Jarrod and his friend Jay (from NEF.NET) had put this trip together and had a crew of guys getting together for this excursion. What was amazing is these guys had no guide or boat. The trip was planned based off of research, maps and previous trips. The fishing was done all on foot with back packs strapped to our backs and allot of walking and pond hopping. I lost count on how many different spots we fished. Some spots that looked good off the highway we literally pulled over to fish.

It was a no frills trip with to many guys crammed in a hotel room and pretty much fast food and convenience store food to nourish us during that whole week. Which was fine by me. However I did flip the bill for some pizzas and ice buckets of cold bottled beer as a thanks to the guys for letting me tag along. I really had the itch to catch some FL peacocks, so I was grateful to have the opportunity.

As I had hoped we got into some FL butterfly peacock bass. Things started off real slow but after a tip on a couple of spots from someone who one of the guys (Jay) knew the action picked up. Along with some additional exploring we found some other locations with fish. The peacocks were on their beds and were hitting almost anything you threw at them. Everyone within the group caught fish, as well as lots of numbers of them. The best spot was one we found accidentally while trying to find another spot. This fluke find ended up being the big fish spot and where the largest fish of the trip were caught, including Jarrod's trophy.

It goes to show with some planning, leg work and a sense of adventure, can yield some great rewards. Southern FL has plenty of peacocks and with some internet research and exploring you won't need a guide. So head down to Southern FL if you've got the itch for peacock bass.