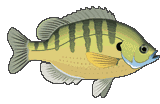 There are many species to choose from if you are a pan fish angler.
A JUMBO YELLOW PERCH & A JUMBO BLUEGILL
A FEW OF THE JUMBO PERCH WERE AS BIG AS THE BASS
MY FAVORITE OF THE PANFISH, THE ROCK BASS. CAUGHT 07/07/2012
TROPHY WHITE PERCH. THIS ONE WENT OVER 2 POUNDS.
BRO WITH A DECENT YELLOW PERCH
RAY WITH A MA PIN SUNFISH (KIVA)
A SLAB BLUEGILL I GOT IN EARLY APRIL ON THE FLY ROD
PERCH OFF THE JIGGING ROD